In The News - 2004
Antelope Crossing 4H Dog Project group leaves big impression.
On Saturday, July 17th, the Antelope Crossing 4H Dog Project group started off the Arapahoe County 2004 fair season with a bang. In a display of sportsmanship excellence, all seven of the project's youths left the show with high honors in either obedience, showmanship or both. Three have qualified and will be moving on to participate at the State Fair in Pueblo next month. Congratulations to them all.
---
Strasburg 4-Her Takes Top Honors for Second Consecutive Year
Strasburg 19-year-old Katherine Price, a member of the Antelope Crossing 4-H Club, for the second year in a row took top 4-H dog obedience honors at the Colorado State Fair. She took champion in her division and then went on to be named overall grand champion in advanced obedience at the state show, held in Pueblo, Aug. 28. Last year, Price and her Pug mix, "Cleo," accomplished a similar feat in the novice division.
"In just three years Katherine has risen to the top in the Colorado 4-H dog obedience program," said Antelope Crossing 4-H Dog Project Leader Sandy Chiavelli. "Katherine and Cleo have worked very hard. I couldn't be more proud of them."
Price is modest about her accomplishment but enthusiastic about what she has learned from Chiavelli through the 4-H project. "I want to keep training dogs and learning more," Price said.
Also with a strong showing for her first year in the 4-H dog project was Antelope Crossing 4-H member Stephanie Stumbaugh, Strasburg. She and her dog took reserve grand champion in novice senior showmanship and placed fifth in sub-novice A obedience.
Chiavelli operates Prairie Dog Acres, which specializes in training dogs in obedience and for agility competitions. She has been the Antelope Crossing 4-H Dog Leader for three years. For more information on these programs, call Chiavelli at 622-6976 or visit http://www.prairiedogacres.com
Antelope Crossing 4-H is a Strasburg-based general 4-H club participating in the Arapahoe County 4-H program. In addition to dog, club projects include horse, sheep, beef, swine, astronomy, model rocketry, cake decorating, veterinary science and others. 4-H is open to kids ages 8-18, as of Jan. 1, 2005. For more information, contact organizational leader Marilyn Wentz at 622-9498.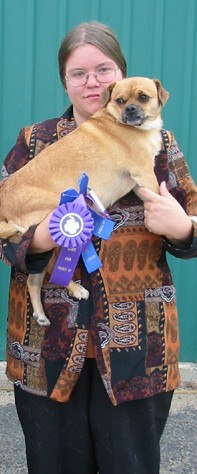 Katherine Price & "Cleo"